All right, all right, I know I haven't posted for ages.
Life's been incredibly hectic over the summer. Here's a few goodies to update you with.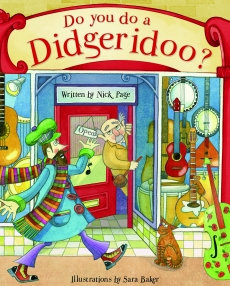 "Hey Mr Music-Man, how do you do?
Do you do a didgeridoo?"
My new chldren's book is out. Do you Do a Didgeridoo is the story of one man's heroic quest for the instrument of his dreams.
A mysterious customer wants a didgeridoo, but will he find it in Mr Music-Man's Marvellous Music Shop?
There are guitars for the blues and lots of kazoos, kangaroos and gnus and men with tattoos.
But are there any didgeridoos?
[Here's one satisfied customer->http://mallonmessages.blogspot.com/2008/09/do-you-do-didgeridoo.html] (of the book) at any rate.
I've also got a new edition of Phantastes by George MacDonald coming out, which I have edited and annotated and done an introduction. It's to mark the 150th anniversary of the first publication. A real labour of love that I hope MacDonald fans will appreciate.
Add to that I'm working on a book about the last week of Jesus' life called The Longest Week, which lwil be published by Hodder next year.
So, I've got some excuse for not blogging!