I'm currently researching various designs for a new Bible timeline to go in the Soul Survivor One Year Bible. Anyway, I've stumbled across some wonderful examples of timeline design.
Take a look, for example at this gloriously convoluted history of American Political parties from the 1890s: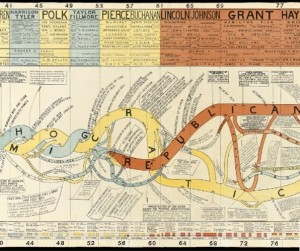 The Minard map of Napoleon's campaign in russia has been acclaimed as one of the best infographics ever:
And you can find more here at Strange Maps, which is a treasure trove of unusual and thought-provoking cartography.
While the Edward Tufte website contains a wealth of examples. Along with promotion for Tufte's books, of course.