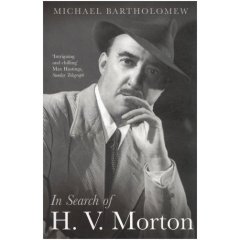 As a Christmas present to myself I bought the biography of H.V. Morton, the travel writer. I love Morton's books. A battered copy of In the Steps of St Paul accompanied me on a trip round Turkey (it wasn't battered before the trip, incidentally). Morton is a great writer, and his description of Paul in Rome is one of the best passages about the apostle that I've ever read.
Sadly, however, the writer himself is not so loveable. A crypto-fascist who found a spiritual home in South Africa and whose efforts in the war were at odds with his secret admiration for Hitler: this is not a man who one can admire. Perhaps he realised this himself; perhaps the character revealed by his diaries was not the whole truth. He always kept his personal life carefully guarded, because he didn't want people who admired 'H.V. Morton the author' to be dismayed by 'Harry Morton the man.' I'm glad I read the book, not least because it's an excellent biography; but one is always a little saddened when one of your favourite authors turns out to be such a flawed human being.
Of course it doesn't affect the quality of the work, nor does it undermine the vision. The writing stands on its own as beautifully crafter, cleverly constructed and frequently moving. The vision he portrays of England, for example, as a fundamentally decent and honourable place, is still one I'd like to believe in. And if the narrator who takes us through these lands is a semi-fictional persona, then I'm OK with that. I prefer to think the best of people; and maybe the narrator was the better part of the real H.V. Morton.