There are 40 books by my bed. Most of them I haven't yet read. A few of them I want to re-read. Some of them I've started but have got bogged down with. And some of them are to do with a bizarre obsession with Herman Melville. But they've all been sitting the for some time. So it's time to take action. So this month, I'm going to read them. Or, at least, bits of them. And I'm going to share my pleasure. Or pain. If nothing else it'll give me something to blog about at the beginning of the year. The books are listed below, but tonight I shall start with Just My Type and Che Guevara's cheery little treatise on Guerilla Warfare.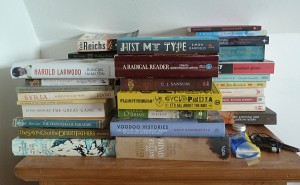 The books are:
David Aaronovitch: Voodoo Histories: The role of conspiracy theory in shaping modern history
Anthony Beevor:The Battle for Spain
Michael Chabon: The Yiddish Policemen's Union
G.K.Chesterton: Selected Essays
Che Guevara, Guerilla Warfare
Charlie Connelly: And Did Those Feet
Andrew Delbanco:Melville, His Work and his World
William Fotheringham:Cyclopaedia
Simon Garfield: Just My Type, a book about fonts
Jonathan Glover: Humanity, A Moral History of the Twentieth Century
Duncan Hamilton: Harold Larwood
Christopher Hampton: A Radical Reader
Peter Hopkirk: The Great Game
Lewis Hyde: The Gift and Trickster Makes this World
Tove Jansson: A Winter Book
Marius Kociejowski: Syria
Peter Levi: The Frontiers of Paradise
Gregory MacGuire: Son of a Witch
Herman Melville: Moby Dick and The Portable Melville
David Mitchell: The Thousand Autumns of Jacob de Zoet
C.F.D. Moule: The Phenomenon of the New Testament
Kate Mosse: Labyrinth
Lewis Mumford: Herman Melville
Naomi Novik: Temeraire
Patrick O'Brian: HMS Surprise
Terry Pratchett: Unseen Academicals
Kathy Reichs: Cross Bones
Adam Roberts: Swiftly
C.J. Sansom: Dissolution
W.G.Sebald: The Rings of Saturn
Richard Sennett: The Craftsman
Iain Sinclair: Lights out for the Territory
Michael Swanwick: The Iron Dragon's Daughter
Benedicta Ward: The Sayings of the Desert Fathers and The Wisdom of the Desert
Philippe Wolff: Western Languages, AD 100-1500
Tom Wright, Justification
There are also about fifty comics including the complete run of Kirby's Mister Miracle, some Marvel Tales (#4-7) and Alan Moore's League of Extraordinary Gentlemen. But I've read those loads of times so they don't count.